Mechanical Engineering is one of the primordial, most diverse and versatile disciplines of engineering. This branch of engineering is a highly dynamic amalgamation of engineering physics and mathematics principles with materials science to design, analyze, manufacture, and maintain mechanical systems. Though its beginning can be traced back several thousand years across the globe, mechanical engineering emerged as a field during the Industrial Revolution in Europe in the 18th century.
Mechanical engineers play a crucial role in a variety of industries including automotive,  micro-electromechanical systems, aerospace, biotechnology, computers, robotics and automation, electronics, energy conversion,  and manufacturing, etc. To become a mechanical engineer in India, you will have to pursue an engineering degree like a B.Tech or B.E or earn a diploma certificate in engineering from a recognized university or college. Another option is to complete a course in a mechanical engineering trade from the Industrial Training Institute (ITIs) and also pass the All India Trade Test (AITT) conducted by the National Council of Vocational Training (NCVT).
Career Opportunities and Options for Mechanical Engineering Graduates:
The job market for mechanical engineering graduates is perennial. There are a variety of mechanical engineering jobs available in India and around the world. Mechanical engineering professionals can find jobs both in the government and private sector undertakings.
Major industries that recruit mechanical engineers include automobiles, aeronautical, space research, energy and utilities, bio-mechanical industry, manufacturing plants, air conditioning and refrigeration industry, turbine manufacturing plants, oil and gas exploration and refining industries and the agricultural sector.
There are numerous opportunities in the government sector also. Mechanical engineers are recruited by central and state governments for government industries. They can also work in private engineering companies that provide technical consultancy to both government and corporate firms.
Here is a list of some of the opportunities for mechanical engineering graduates:
Engineering Services Examination also popular as ESE is conducted annually by UPSC to recruit engineers in four domains – Civil Engineering, Mechanical Engineering, Electrical and Electronics & Telecommunications for the techno-managerial posts.
Public Sector Undertaking Organizations like ONGC, IOCL, BPCL, HPCL, GAIL, BHEL, BEL, SAIL, etc.
Research Organisations like ISRO or DRDO
PVT Sector Jobs: L&T, Automobile companies like Mahindra, TVS, Hero Motocrp, TATA Motors, etc.
State Government Engineering Jobs
Engineering Colleges
Merchant Navy
Aerospace Engineering
Automotive engineering
Construction
Energy
Manufacturing and Railway Engineering
Now, we know the various sectors and employers that hire mechanical engineering graduates. Let's discuss the role and responsibilities of a mechanical engineer.
As a mechanical engineer, you will be involved in research, design, develop, build, and test mechanical and thermal devices, including tools, engines, and machines.
Typical Job Responsibilities of a Mechanical Engineer:
Analyze problems to see how mechanical and thermal devices might help solve the problems.
Design or redesign mechanical and thermal devices
Develop and test prototypes of devices
Analyze the test results and change the design as per requirement
Oversee the manufacturing process
However, this is just the tip of the iceberg, you may be involved in various other interesting tasks as per the industry requirements. Therefore, be ready to be a part of the amazing world of mechanical engineering.
Now, if you have decided to pursue a degree in mechanical engineering, let's discuss what do future mechanical engineers do during their graduation. Before taking admission into any engineering college, we need to know and understand how a college can help us shaping our career.
For a better understanding of this topic, I would introduce you to the Department of Mechanical Engineering at KIET Group of Institutions, one of the top engineering colleges in Delhi-NCR.
Department of Mechanical Engineering
The Mechanical Engineering Department of KIET Group of Institutions has a reputation of being among the finest in the state. It is dedicated to the advancement of technology and science. The department was established in 1999 with the objective to impart quality education in the core field of Mechanical Engineering.
The faculty members of the  'Department of Mechanical Engineering' are highly qualified, experienced and dedicated. The department was accredited in the year 2005, 2009, 2015 and 2018 by the National Board of Accreditation (NBA) of AICTE.
Salient Features of the Department
In addition to the curriculum prescribed by our affiliating University, AKTU Lucknow, the department imparts quality education along with beyond curriculum topics relevant to current industry requirements. The department does not only focus on curriculum activities but also provides opportunities for Co & Extracurricular activities for the all-round development of students. Department has added one course per semester for all the students on Industry readiness, in which different courses on recent and advancement technologies like Training on Pneumatics, Training on VMC, Training on CATIA & ANSYSY, Training on Automobiles, Training on Plasma cutting machine/MIG/Milling machine, Synthesis and characterization of Materials, Python/C/JAVA programming for enhancing the employability of students.
Centre of Excellence and Technical Hobby Clubs
For the enhancement of students' employability, the department has provided various platforms for hands-on training to students foreseeing the demands in the industries. The department runs following Centres of Excellence and technical hobby clubs:
SAE KIET Collegiate Club
KIET Design Club
CAD/CAM
Material and Metallurgical Club
Training on Pneumatics Lab
In our next blog, we shall discuss these Centers of Excellence and hobby clubs in detail. We shall also go through the testimonials of the KIET Achievers and try to understand how the college helped them in realizing their dreams. However, here is the story of one of our KIET Achievers of the Mechanical Engineering Department: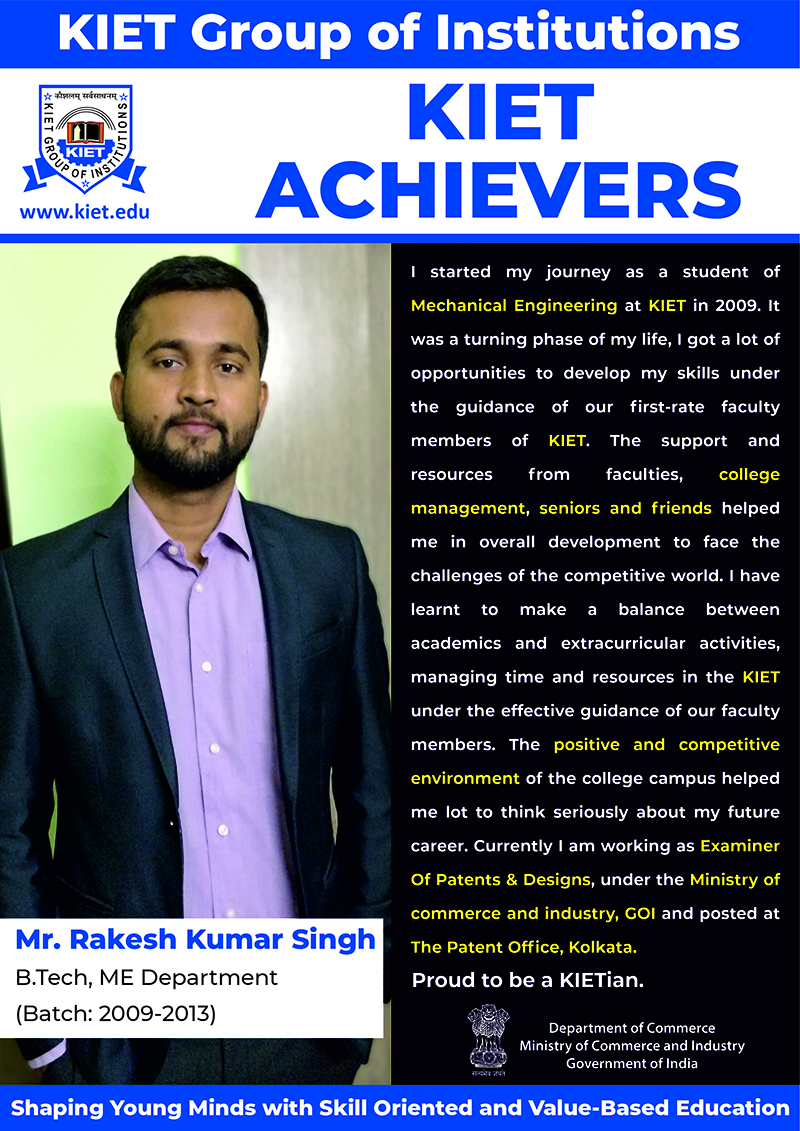 To know more about KIET Group of Institutions, click the following link- https://www.kiet.edu/