Whenever we talk about women at workplace, we often talk about how strong willed they are, how efficiently they manage their ability to persist despite failure, how well they adapt to change, and blah.. blah… blah.. Isn't it? We do not ever talk about the most pervasive problem that most of the women face at their workplace and that is sexual violence or sexual harassment.
Even today, talking about sexual assault openly is considered to be a taboo. The peers, friends, and family often restrict females to utter a word about the sexual torture they might be coping up with. We have seen people making statements like, "तू वो ऑफिस ही छोड़ दे", "Just ignore him", "Leave it" and so on.. Nobody really checks out the rootcause of the emerging cases of sexual violence at the workplace. Also, no one provides a comfortable atmosphere to the victim, so that she could share what exactly she is going through and what all necessary actions should be taken to curb this dirty situation.
As KIET Group of Institutions is observing 'Discrimination against women' pakhwada, through this blog, we aim to spread the word of women power, so that all the readers take inspiration, feel empowered and create a safe space for their female colleagues.
One of the most effective ways to put an end to sexual discrimination or violence is to hire more women at the top level management positions. They are capable of eradicating all types of discrimination or violence against women at the workplace. Here's why –
– Women are empathetic
Many-a-times, science has proved that women are born as soft and sensitive individuals who can empathize with people and help them with practical solutions. Hence, with more women at leadership positions, it will be easier for the employees to share their concerns and look forward to actions that completely put an end to cases that involve any kind of sexual misconduct. It may come as a shock, but, at some places, men too, become a victim to sexual violence at the workplace. In such cases as well, a woman leader will never fail to take a stand.
– Women are good mentors
When it comes to sexual violence or discrimination of any sort at the workplace, females tend to move into a very hush-hush mode. They do no prefer to disclose the details to anyone, probably because the people at the top positions are generally male. So, females feel shy and hesitant to speak out. Therefore, women leaders are highly important to recruit. They provide a friendly atmosphere to their colleagues, juniors and other employees, so that they can easily reach out and discuss what's bothering them at the workplace.
Simply put, having women leaders on board is highly essential to maintain a healthy and SAFE work environment for the employees.
Here's what employers must keep in mind:
Hiring/ promoting more women at top leadership positions is not enough to curb the situation of sexual violence. One should ensure that the number of female leaders is not very less in comparison to that of their male counterparts. Maintaining equal gender diversity is highly important.
Employers must create an atmosphere of gender equality so that no male or female gender bias takes place at the organization and that a neutral work environment is offered to all.
Employers must take sexual harassment very seriously and make it very clear that such acts will not be tolerated and are subject to lawful actions.
KIET Group of Institutions is against all such obscene acts of misconduct that disturb the integrity of its employees, especially women. With two women leaders at the top positions at present, the institute looks forward to promoting more deserving female candidates to the high-end positions very soon.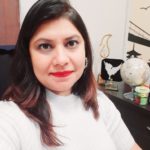 Author:
Dr. Preeti Chitkara
Assoc. Prof. Communication & Soft Skills
Head PR & International Relations
KIET Group of Institutions