Information technology is one of the most rapidly increasing sectors of the Indian economy and has shown a remarkable sign of growth within the last two decades. India is the largest exporter of IT. Two main constituents of the Information Technology sector in India are IT services and outsourcing. In this blog, we shall discuss the career and opportunities after completing B.Tech in Information Technology (IT).
According to a report- IT &ITeS industry grew to approximately US$ 180 billion during 2018-19. Exports from this sector swelled to US$ 137 billion in the financial year 2019 while domestic revenues increased to US$ 44 b. IT industry provides jobs to almost 4 -5 million people as of the financial year 2019.
According to the data issued by the Department for Promotion of Industry and Internal Trade (DPIIT)- "The information and technology sector in India attracted accruing Foreign Direct Investment (FDI) inflows that were worth US$ 43.58 billion between 2000 and 2019."
How to start a career in IT?
To make a career in IT, you'll need a degree. It may be B.Tech/BCA/M.Tech/MCA or a diploma. Profound knowledge and a degree always give you an edge over your competitors. A career in this sector is diverse and lucrative with a great job and personal growth opportunities and high-end salaries offered to the young talents with high potential.
Here is a list of some of the top on-campus recruitment (2020) of KIET Group of Institutions- one of the best engineering colleges in Delhi NCR. This list has been used here just to give you an idea about the opportunities after completing a bachelor's degree in Information Technology.

Employment Opportunities:
Graduate IT engineers may get following job opportunities.-
Front-end engineer
Java developer
Data scientist
Product manager
DevOps engineer
Data engineer
Software engineer
Salesforce developer
Applications engineer
Systems engineer
Software developer
Cloud engineer
Product designer
UX designer
QA engineer
Sales engineer
Data analyst
Automation engineer
Network engineer
Why a boom is expected in this sector despite COVID 19 and lockdown Setback?
The Indian government has taken several initiatives during the last few years to boost employment and opportunities in this sector:
Nasscom has launched an online platform to up-skill over 2 million technology professionals and skilling another 2 million potential employees and students.
Till November 2019, there were about 417 approved SEZs across the country where 274 are of IT &ITeS and143 are exporting SEZs.
PE investments in the sector stood at US$ 3.6 billion in Q3 2019.
On May 2019, the Ministry of Electronics and Information Technology (MeitY) launched the MeitYStartup Hub (MSH) portal.
In February 2019, the Government of India released the National Policy on Software Products 2019 to develop India as a software product nation
The government has identified Information Technology as one of 12 champion service sectors for which an action plan is being developed. Also, the government has set up aRs 5,000 crores (US$ 745.82 million) fund for realizing the potential of these champion service sectors.
According to Union Budget 2018-19, NITI Aayog is about to set up a national-level program that will enable efforts in AI and will help in leveraging AI technology for development works in the nation.
In the Interim Budget 2019-20, the Government of India announced plans to launch a national program on AI and setting up of a National AI portal.
National Policy on Software Products-2019 was passed by the Union Cabinet to develop India as a software product nation.
How to Get Admission in B.Tech or B.E in Information Technology
There are several top engineering colleges in India that offer a degree in B.Tech or B.E in Information Technology. Our College- KIET Group of Institutions is Grade 'A' – NAAC accredited college with NBA accredited courses like – CSE, ECE, EEE, IT, ME, MCA and Pharmacy and has been ranked No. 1 private engineering college in North India for enabling the research environment. Therefore, you can get a lot of opportunities to learn, explore, experiment and grow here.
Here are some of the testimonials of KIET achievers that will help you understand the ambiance and initiatives of the college that help students get better career opportunities.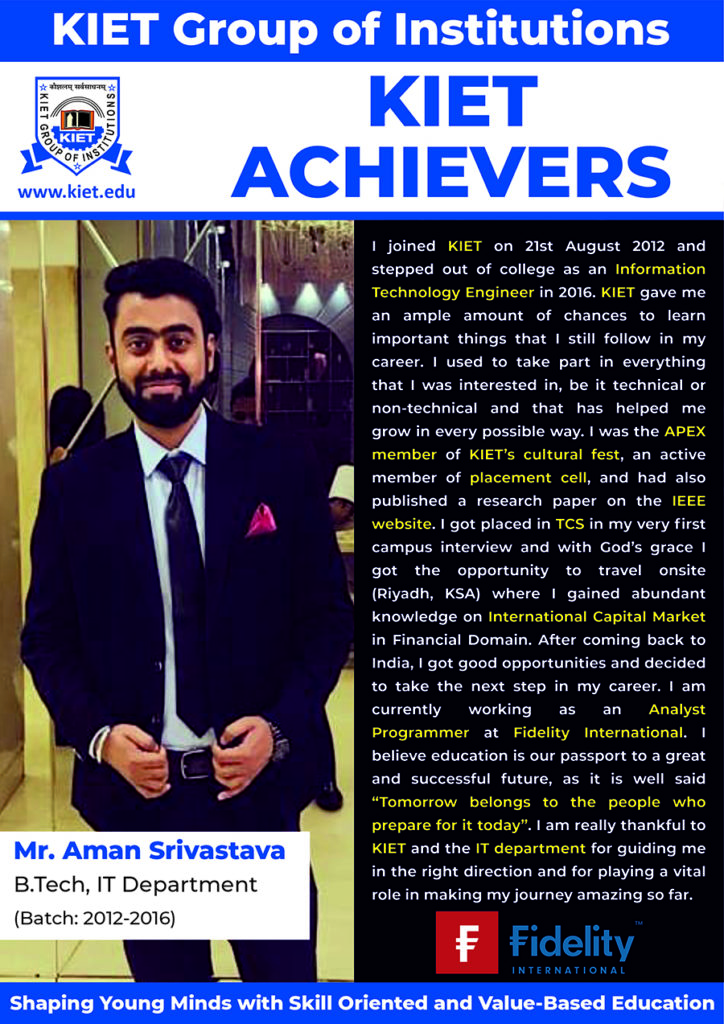 For more testimonials, you can visit the page- 'Testimonials' or you can visit our website- KIET Group of Institutions or directly visit the Admission Procedure Page for more details.
How Do We Help You To Shape Your Career?
We have various value-added courses, seminars, workshops, Industry based training and student clubs and also provide job-oriented training and guidance to IT engineering students so that they can keep pace with the needs of ever-evolving IT market.
You can visit the page- "Information Technology" for more details on this topic.
References: Media Reports, Press Information Bureau (PIB), Department for Promotion of Industry and Internal Trade (DPIIT), Department of Information and Technology, Union Budget 2020-21, https://www.ibef.org/industry/information-technology-india.aspx